Tilled PayFac-as-a-Service
January 14, 2022
What is PayFac-as-a-Service?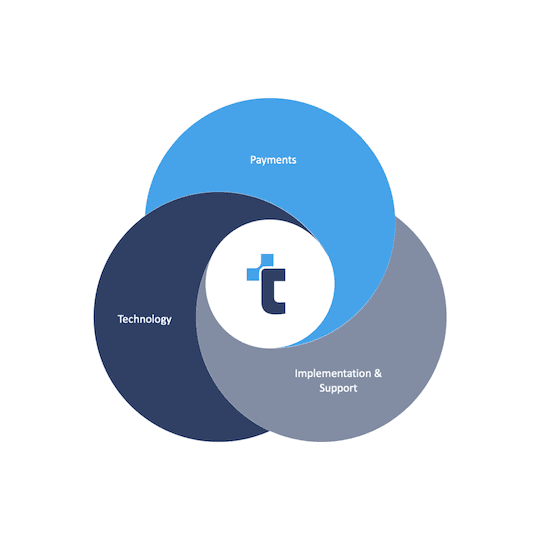 Let's talk about what that whole 'as-a-service' piece of PayFac-as-a-Service really means. 
We've talked before about the "PayFac Holy Grail", and how Tilled combines an easy to implement solution with an instant onboarding experience, alongside economics that provide a true benefit to software companies. But with PayFac-as-a-Service, that's only half the story.
Beyond just offering a PayFac solution, Tilled offers PayFac, as a service. What does that mean exactly? Underneath the PayFac Holy Grail, there's a three-legged stool holding it up that consists of: core technology, implementation and support, and payments.
Core Technology
At Tilled, our team of engineers is always working to further our product roadmap so that we can continue to bring our partners new and upgraded features that improve their payments experience. All of our customers receive access to that roadmap from day one, and can rest assured that new features/upgrades come at no additional cost and require no lift from their end during implementation.
Additionally, our APIs allow us to implement the latest functionality very quickly – typically in under an hour – so that our partners and their merchants can access new features and updates practically instantaneously. 
We say all of this knowing that as a B2B software company, you and your team are more than capable of building new features and services into your product offering, but when it comes to integrated payments, you shouldn't have to. Tilled allows you to focus you and your team's time on your core competencies, and we take care of the rest. Starting to get the whole 'as-a-service' thing yet? 
Implementation & Support  
We provide each of our partners a dedicated Technical Implementation Specialist and Implementation Manager to ensure a smooth implementation process. Our Technical Implementation Specialist and Implementation Manager will work in tandem with your development team, and can even leverage our Slack connect channels to quickly communicate and work efficiently together. 
*Infomercial Voice*…but that's not all! If one of our customers has developer constraints, we are able to partner with third-party developers to help the ISV implement Tilled. You can always expect that we will be hands-on throughout the implementation process to ensure that you not only process proper payments, but ensure your technology works in conjunction with Tilled's APIs or Tilled services at large.
There's also no need for additional training for your staff, as our support teams are always available when and where you need it. All of this comes, of course, with no additional costs or fixed monthly fees. 
And to be clear, our support teams aren't just here to support you, but your merchants as well. There's no need for you to build a call center or train staff on how to support customers with payments, because your merchants can call, email or chat directly with someone at Tilled anytime they need help. This is just another way we act as a true partner for your business. 
Payments
While Tilled's PayFac offerings will bring a lucrative new revenue stream to your business through payment monetization, we do more than write you a check each month and wish you luck with this new aspect of your business. As your true payments partner, we provide you with an entire division of payments experts essentially in house, as a service.
First and foremost, we help get your merchants up and running with Tilled, taking care of the application and underwriting process so that many of them can begin processing payments in less than 10 minutes. While most underwriting can be automated, it occasionally does need a human to complete. With Tilled, we have a team of experts who double-check every underwriting process and reach out proactively if we see an issue. This ensures your customers are onboarded quickly and efficiently, with no work needed on your part.
You can also count on us to handle the many nuances and potential liabilities that come with processing payments, including fraud monitoring and chargeback management. Other providers often fall short in this area, setting up their customers with a payments solution and then leaving them to figure out the rest. And if you're unsure of how to handle those aspects of payment processing (which by the way, are extremely expensive, time-consuming, and difficult to do on your own), it doesn't matter how good the rest of the solution is. When you don't have the money, time, or expertise to provide payments support for your customers, it's doomed to fail. 
We're proud to offer our customers the PayFac Holy Grail and provide the best solution on the market for software companies looking to monetize their payments. But we're even more proud to offer it as-a-service. 
This is PayFac-as-a-Service. Ready to learn more?