Tilled PayFac-as-a-Service
May 6, 2022
Take Your Reporting to the Next Level with Tilled's PayFac-as-a-Service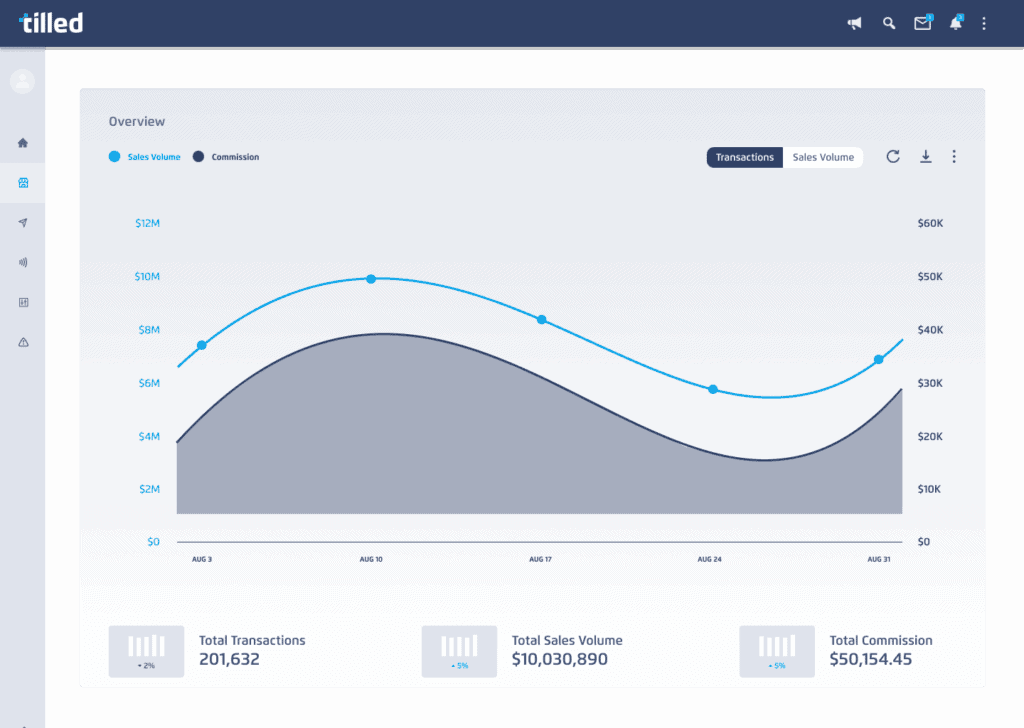 We hope you're hungry, because our Payfac-as-a-Service platform dishes out a healthy serving of transactional data.
Tilled has always been about making every aspect of payments easy for B2B software companies, and that includes reporting on said payments. Through our modern API's and powerful webhooks and metadata capabilities, we're able to capture and share a robust amount of transactional data from the payments your merchants are processing through your system. Oh, and we do all that in real-time, and in an easy-to-understand format.
Let's talk about why that's HUGELY important for both you and your merchants.
1. Your Merchants
Tilled's PayFac-as-a-Service platform provides your merchants with powerful customizable transactional and deposit reconciliation reports. Included out-of-the-box with your Tilled system, these reports empower your merchants to quickly view key financial data from whatever time frame they're looking for, giving them the visibility they need to complete critical accounting and deposit reconciliation processes. 
Whether it's matching up deposits in their bank accounts vs. the amount that was actually collected, monitoring for chargebacks or other payment disputes, or measuring how much they're processing, your merchants will have no problem to maintain accurate records and a clean bill of financial health. But what about you, the software vendor?
2.  Your B2B Software Company
In addition to adding value to your core offering, Tilled's intelligent payment reporting will enable your B2B business to effectively monitor individual merchant payment activity, helping you gain powerful insights into the health of your entire merchant portfolio. Through our comprehensive Merchant Summary report, you can review the information you need on credit card, ACH, and direct debit transactions that run through your software, plus key data on merchant payouts or fees incurred in a specific time period. And soon, you'll even be able to download and export reports that capture data for any merchant for any specific time frame. 
Ultimately, the more visibility you have into your merchant transaction information, the easier it is to measure individual merchant health, maintain accurate financial records, and make smarter forecasting decisions  
Like we said, we're on a mission to make payments as easy as possible for our partners. And with Tilled's Payfac-as-a-Service, tracking and reporting on merchant transactions is a breeze. We're talking real-time data. Lots of it. In slick, clean formats. If your current payments provider isn't meeting your reporting needs, it might be time to consider a solution like yep, you guessed it, TILLED.
Contact us today!